From 26 to 29 September, ALDA will host 20 key stakeholders from Cyprus, Portugal, Denmark and Iceland in the beautiful city of Strasbourg for the second edition of the Training Course on Active Ageing and Nature Conservation, aimed at staff and adult educators who work directly with older people and environmental issues in their regular activities.
The agenda of the training course "Active Ageing and Nature Conservation" included
Basic concepts of ecology and nature
Concepts of Active Ageing Volunteer Programmes for Nature Conservation;
Human resources and logistics management;
Engagement, communication and outreach.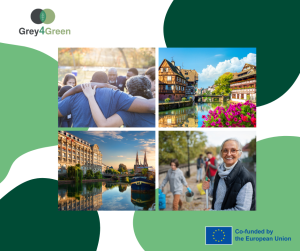 Our partner Bioliving and the Municipality of Lousada, who are experienced in working with older people and in issues such as nature conservation and biodiversity, will present these topics with enthusiasm and expertise.
Connecting with nature and the future
A highlight of the agenda will be a day of outdoor training in the Parc de l'Orangerie and the Strasbourg Botanical Garden. These natural settings will provide the perfect backdrop for participants to connect with nature and strengthen their commitment to conservation efforts. It will also allow them to find a deeper sense of purpose in their future volunteering activities.
All participants will receive a Europass Mobility certificate and this training activity is very important for the Grey4Green project as the following activities will be designed based on the feedback we receive from the participants.