Since elderly people feel strongly motivated to help nature conservation by thinking about future generations and being around them, the Municipality of Lousada organized together with the contributions of three schools, tree plantation actions to promote intergenerational volunteering.
The first event involved 37 kids from the 7th grade to the high school, 13 seniors and 3 young volunteers from Associação VERDE. It took place in a public green area- an urban village park- in the village centre. This volunteering action resulted from a partnership between the Grey4Green Lousada team, a local primary and secondary schools and Associação VERDE.
The second one, brought together 42 kids from the primary school, 30 seniors from different parishes and 4 12th-grade students from the high school who are observing and helping to promote Grey4Green activities with the objective of developing work in the discipline of psychology. This volunteering action took place in Mata de Vilar, a very important native forest from the municipality of Lousada. The main goal of both tree plantations was to:
"create a safe and cooperative community atmosphere to promote environmental action and awareness while fostering emotional and social ties between school and senior communities, thus contributing to a greener and fair future".
These intergenerational plantations achieved great results, not only because of the number of trees the volunteers
planted – 276 native trees – but also because of empirical knowledge that seniors shared with those kids and young people and the feeling of joy and sense of community lived during the actions.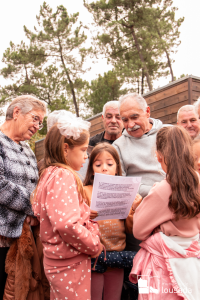 While the seniors taught the younger ones how to plant trees, they shared their lives and experiences with them. 
Also, the younger ones were impressed about how grave seniors were once they had some physical difficulties but even though they kept the focus on the work full of energy and bravery. At the end of both plantations, kids were calling elderly grandparents, which was a very emotional moment. Regarding the ecological result, all the planted trees were native, a demonstration of enhancing the ecological value of the grove in public areas of the territory, promoting biodiversity and contributing to the quality of life in Lousada.
As the impact of these intergenerational volunteer actions has proven to have a great impact on the local communities in terms of increasing civic engagement, especially from elderly and young people, we are planning future similar volunteering actions for 2023. We expect to involve more volunteers from all ages and plant and restore many other areas.