On November 5th 2022, Associação BioLiving promoted its annual conference on environment and sustainability under the topic «Active Ageing for Sustainable Communities: Elders in Action!».
The event took place in Albergaria-a-Velha, Aveiro (Portugal) and was hosted by Associação BioLiving (Grey4Green Team), Municipality of Albergaria-a-Velha, Associação Social para Idosos com Vida and Centro de Interpretação da Pateira de Frossos.
The Conference aimed to involve citizens and experts in a debate on the importance of senior participation and intergenerational in the development of local communities towards the conservation of natural and cultural values as well as the promotion of social inclusion and quality of life. The sixth edition of this «BioFórum» took place in São João de Loure e Frossos, a rural parish of Albergaria-a-Velha, which is home to a large number of third-age citizens, and involved about 40 people from the academic field, public administrations, professionals of the ageing and health sector, as well as citizens of all ages.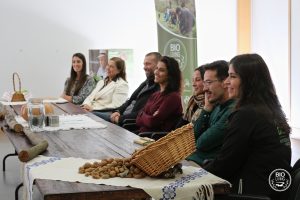 Not only did the conference «Elders in Action!» allow the dissemination of scientific and empirical knowledge necessary to learn about active ageing in a holistic way, but also its friendly environment created opportunities for networking and partnerships between projects on social inclusion, active ageing, environmental education, through the exchange of good practices.
Grey4Green was presented as a positive example of a project aimed at promoting active ageing while contributing to climate action, as well as at mobilising older people and harnessing their potential as productive citizens and agents of change.
Senior citizens took a place of action in the event mainly as facilitators of workshops, where they were able to share their knowledge with people of all ages, whether cooking local and seasonal gastronomy, whether doing art craftwork.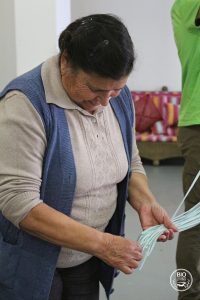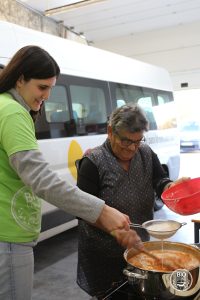 It was powerful the sense of community that was felt during the day, especially when the senior participants took charge of the workshops with their humility, confidence and knowledge.
Dozens of people returned home that day thinking about the value of senior contributions in society and its potential for building a more sustainable and inclusive community.
In 2023, we expect partnerships strengthened on that day to bear fruit with more opportunities for social inclusion and environmental awareness for all ages.